The minimum bulk cement tanker capacity we can produce is 25 tons and the maximum is 120 tons. Bulk cement tankers of different sizes and capacities are exported to Asia, Europe, Africa, and other countries.
Introduction
As a leading manufacturer and exporter of cement bulker trailers, PANDA has been supplying customers with high-quality steel/aluminum bulk cement tanker trailers for 20 years now.
These cement bulker trailers are manufactured of high-strength steel plates, which ensures that each unit is strong, durable, and easy to maintain.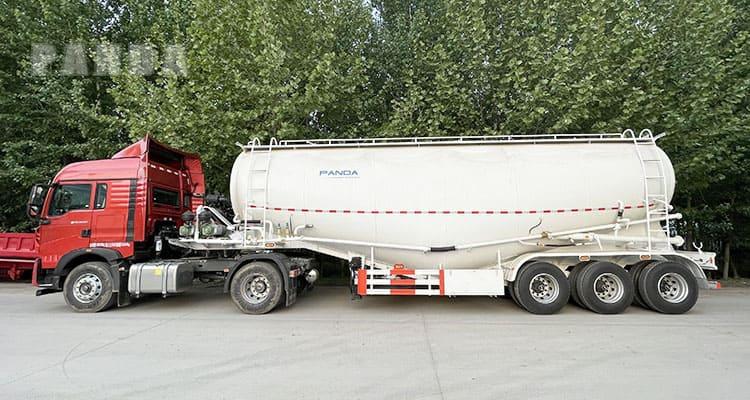 Bulk cement tanker trailer specification
| | |
| --- | --- |
| Brand |  PANDA Mech |
| Volume |  20/25/30/35/40/45/50/55/60/70/100 cbm / cubic meter |
| Capacity |  25/30/35/40/45/50/55/60/85/120 ton |
| Engine | WeiCai Deutz diesel moto |
| Manhole Cover | 2 to 4 sets 500mm diameter |
|  Dimension |  7500-14000*2500*3500-3950 mm |
| Tank Material | 5mm or 6mm high strength steel / Stainless steel |
| Structure | Q345 high straight steel |
| Landing Gear | JOST 28T |
| Suspension | Mechanical or air suspension |
| Brake System | T30/30 chamber, WABCO emergency valve |
| Axle | 3 axles, 1 to 4 sets, 13,16,20 ton axles, BPW or SAF |
| Tire | 12R22.5, 385/65R22.5, 13R22.5, 12.00R24, 315/80R22.5 |
|  Parts | Pneumatic handrail, Famous brand engine, Axle, Tire, Water-proof wires, Semi-meter pipe, Valves, Release valve, Inner airbag, Landing gear, Water spray device, Side guard and toolbox, Manhole cover, blower |
Bulk cement tanker trailer capacity
The bulk cement tanker trailer capacity is from 25t to 120t. Bulk cement tanker trailers can transport materials such as cement, fly ash, powder lime, etc.
Its' large loading capacity makes it suitable for long-distance transportation. Besides, loading and unloading cement bulker trailers are simple. Cement bulker trailers are mainly used in industrial construction projects, such as port construction and bridge building.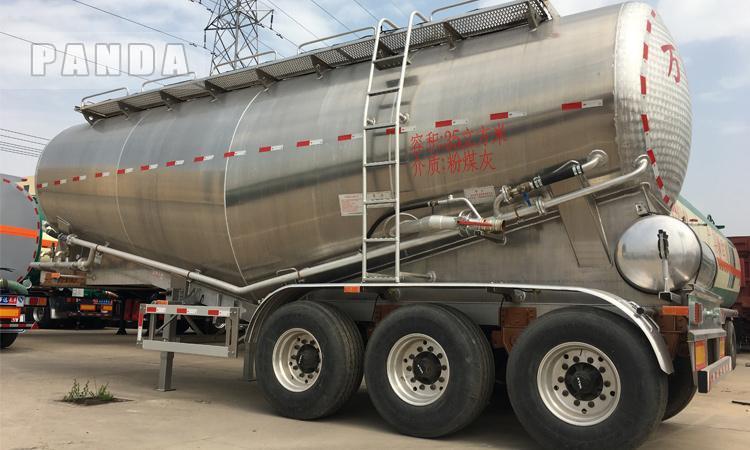 aluminum cement trailer for sale
Cement tanker configuration
Cement tanker's configuration is mainly a bulk cement tank, air compressor, tire, axle, suspension, and so on. 
The bulk cement tanker has a high loading capacity and can transport large amounts of cement. It is mainly used in industrial construction projects such as port construction and bridge building.
The cement trailer is loaded by means of manhole covers on the top and unloaded by means of the discharging pipe, and the air compressor increases the pressure for easier and faster unloading.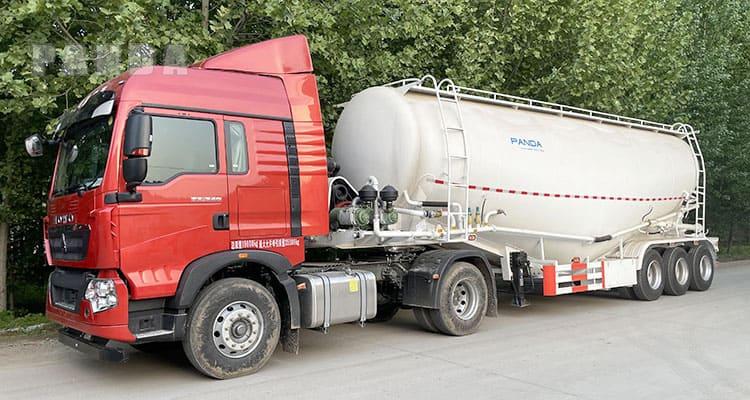 Bulk cement tanker height
Usually, the cement bulker trailer is 3.5m to 3.95m high. And the tank length ranges from 7,500mm to 14,500m (depending on customers' demand). PANDA provides customized steel tanks for the carriage of bulk cement.
The vertical transportation height of the Panda cement bulker trailer is over 30m.
Conclusion
The PANDA bulk cement tanker trailer loading capacity and height can be customized. We can also provide you with a variety of different bulk cement bulker trailers and other trailers. PANDA is a professional bulk cement tanker manufacturer in China. We can provide the right cement bulker trailers to meet your needs. The capacity can be 25ton to 120ton. Also, aluminum tanks and self-loading cement bulker trailers are available.
FAQ
where to buy portland cement in bulk
You can buy portland cement in bulk in CEMEX. A world famous cement company, CEMEX is also our client.