Cement trailer transports most cement and other powder granular materials, dry bulk cement tanker will be equipped with air compressor to load and unload cement easily, because when unloading, it is necessary to add pressure to the tank, so that the airtightness of cement bulker is very important.
Bulker tanker trailer has good sealing storage, which can protect cement well and prevent cement will be affected by moisture during transportation and storage, as well as bad weather, the practicality is more enhanced, compared with the traditional cement transportation method, saving cost and increasing revenue.
Cement truck trailer video
60 Ton cement bulker tanker feature
1. Advanced technology manufacturing, the latest design, durable. Fast unloading speed, low residual rate, good tank rigidity, good pressure bearing and good performance.
2. Usually it will adopt the famous brand BPW or FUWA axle, and for braking, it will adopt 220mm brake pads for better braking performance.
3. Bulker silo trailer is made of rigid strength steel material, which can have longer service life and bearing capacity.
60 Ton cement bulker tanker specification
| | |
| --- | --- |
| Brand | PANDA Mech 50m3/cbm cement bulker truck semi trailer |
| Engine | WeiCai Deutz diesel moto |
| Compressor | SK 12m3 |
| Manhole Cover | 2 to 4 sets 300mm diameter |
| Discharging Valve | 4″ disc valve |
| Tank?Material | 5mm or 6mm high strength steel |
| Structure | Q330 high straight steel |
| Landing Gear | JOST 28T |
| Suspension | Mechanical suspension or Air suspension |
| Axle | 2/3/4 axle, 13,16,20 ton axles, BPW or SAF |
| Tire | 12R22.5, 385/65R22.5, 13R22.5, 12.00R24, 315/80R22.5 |
| King Pin | JOST 2″ or 3.5 detachable type |
60 Ton cement bulker tanker images
50m3 60ton cement bulker trailer for sale
3 axle 50m3 dry bulk cement tanker trailer for sale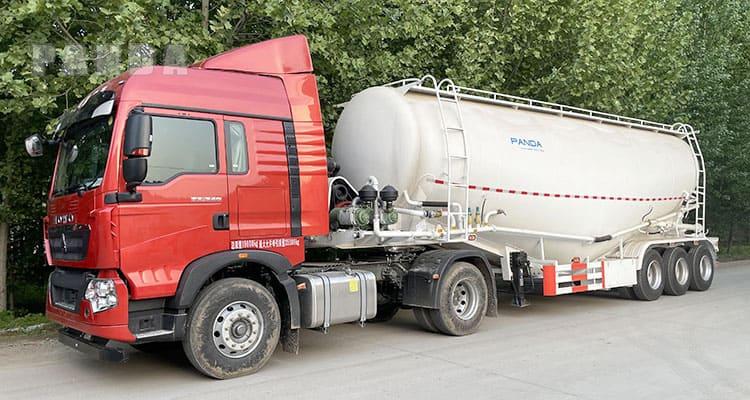 50cbm 60 ton cement tanker truck manufacturer
Relatbed: 40cbm cement tank trailer,  30m3 cement bulker
Sea transportation of 60 ton cement bulker tanker
We will order the Freightliner in advance before the production is completed, and conduct an inspection after the production is completed. The inspected 60 ton powder tanker trailer will be dispatched to you according to the latest shipping time.
In order to prevent the paint of the 50m3 cement truck trailer from being corroded by seawater, we will spray a layer of wax on the surface of the 60 ton cement carrier lorry before transportation.
We will wrap all diesel engines of 60 ton cement transport vehicles with rain cloth.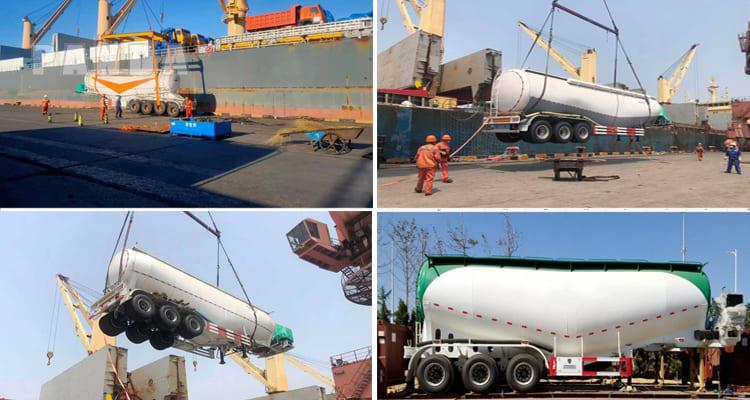 Panda Mech
Panda Mech is a 60 ton cement bulker trailer manufacturer from China. We supply 60 ton cement tanker trailers for sale. Panda Mech manufacturers have been successful in Southeast Asia, the Middle East, Africa, and South America, such as the Philippines, Tanzania, etc…

Get Latest Price and Detail