Aluminum cement bulk trailers are also called aluminum cement bulkers, aluminum powder tanker. Aluminum cement tanker trailer is mainly used to transport powder materials with diameter not larger than 0.1mm, mainly including fly ash, lime and so on.
Aluminum bulker truck trailer application area is very wide, including agriculture, industry, construction, electricity industry, etc., which is most used in the construction industry, especially in cement plants, construction sites.
Aluminum cement bulker trailer feature
1. Cement tanker is made of high-strength wear-resistant steel, for the African market, road conditions are relatively poor, for the body structure is a test, the body of the welding quality and the use of accessories is very important, cement trailer good and bad in poor road conditions is more likely to reflect.
2. Automatic splicing plate machine for double-sided welding of steel plates, to ensure better quality of the weld seam, longer service life and good appearance of the tank.
3. After the production of cement bulker is finished, pressure test and airtightness test will be conducted first to ensure that there is no problem.
Aluminum cement bulker trailer specification
This is the specification of the aluminum cement truck trailer. We supply 25-120 ton aluminum dry bulk cement trailers for sale.
| | |
| --- | --- |
|  Brand |  Panda Mech aluminum dry bulk trailer |
|  Length |  9.5-14.5 meter |
|  Capacity |  25-120 ton |
|  Weight |  Optional, 4.5-6 ton |
|  Dimensions |  (9500-12500)*2500*(3300-4000)mm |
|  Tanker Body Material |  Steel or aluminum |
|  Diesel Engine |  WEICHAI 4100/4102 Brand |
|  Compressor |  BOHAI, FUDA  10m3/12 m3or other brands |
|  Discharging Valve |  Diameter is 3 or 4 inch |
|  Main Beams |  Welded design, High Strength Steel |
|  Axle |  3 axles, 14 ton |
|  Suspension |  Mechanical suspension or air suspension |
|  Tire |  12R22.5 |
Aluminum cement bulker trailer image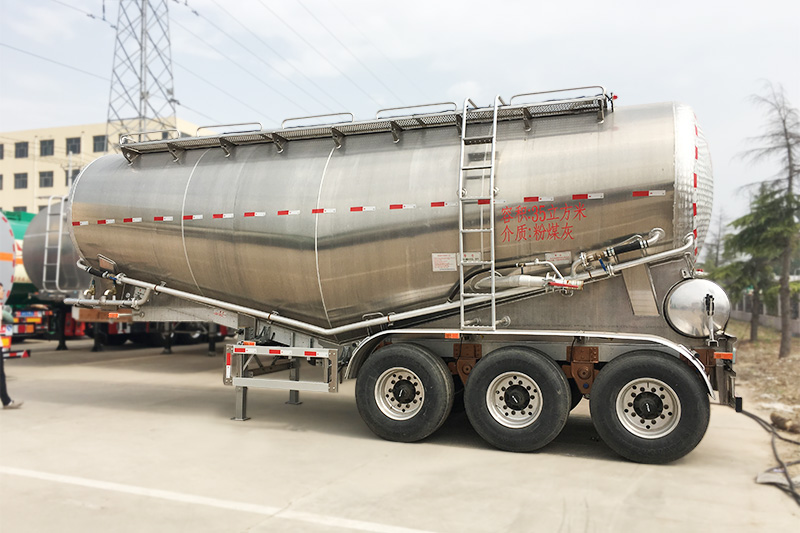 35cbm aluminum cement bulk carrier trailer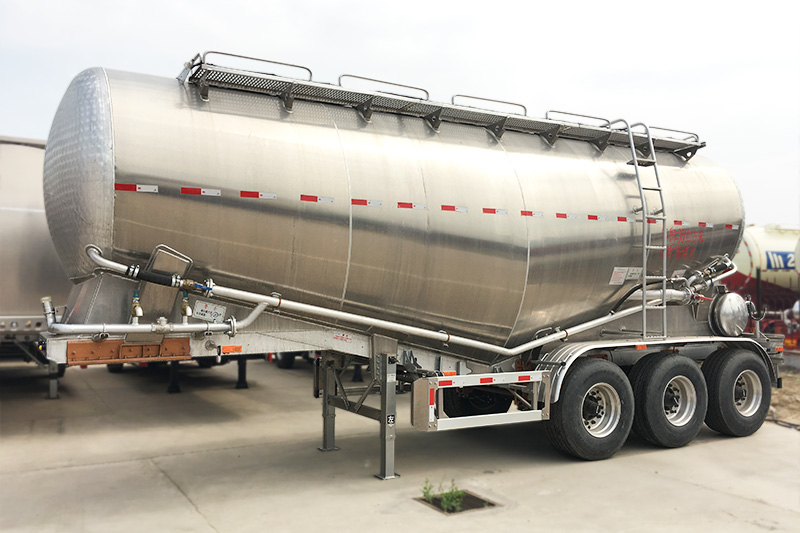 35cbm aluminum dry bulk cement trailer
Related: flour tanker, 50 ton cement tanker trailer
Sea transportation of aluminum cement bulker trailer
We will order the Freightliner in advance before the production is completed and conduct an inspection after the production is completed. The inspected trailer will be dispatched to you according to the latest shipping time.
In order to prevent the paint of the cement sand transport trailer from being corroded by seawater, we will spray a layer of wax on the surface of the aluminum cement bulker trailer before transportation.
We will wrap all aluminum cement bulk carrier trailers of diesel engines with rain cloth.
Panda Mech
Panda Mech is an aluminum cement bulker trailer manufacturer from China. We supply aluminum cement bulker trailers for sale. Panda Mech manufacturers have been successful in Southeast Asia, the Middle East, Africa, and South America, such as the Philippines, Tanzania, etc…

Get Latest Price and Detail