3 months ago, a new partner from Djibouti found our products on Alibaba. He is a professional trader in Djibouti with his business covering 95% of the local transportation companies. He is especially proficient at choosing appropriate cement bulkers for the local companies. He told us that he needed 50 cement tankers of 85 tons with higher unloading speed. At first, we thought him to cheat of our low price, and we were hesitating to send him the final quotation, then he told us directly that those cement trailers shipped to Djibouti will be supplied to 2 cement plants to help them build transportation teams.
Then we asked him the capacity he needs and the road condition and suggested our 85-ton cement bulker with 3 axles, which has more than 1.5ton/min unloading speed to meet his needs.
The 85 ton (70 m3) truck bulker is specialized in long-distance transportation. It is equipped with high-strength steel and precise welding for both the cement tanker and the chassis structure. So no matter how complex the road condition is, it can deal with it stably and safely. The 3 axles form a stable structure to bear weight and lower the cost at the same time, which makes the model economical for bulk purchasing.
When we were discussing the specification, the partner required a different suspension system. Most times, we will apply an air suspension system, because it can reduce vibration and bounce while driving on rougher roads and terrain while the semi trailer is empty. This design reduces the chances of wearing and later maintenance costs to the most extent and has been mainstream in worldwide semi trailer manufacture. But since our semi trailer is customizable, so finally, according to our client's budget, we changed 20 air suspension systems to mechanical suspension systems and give him an extra 1-year warranty as a present.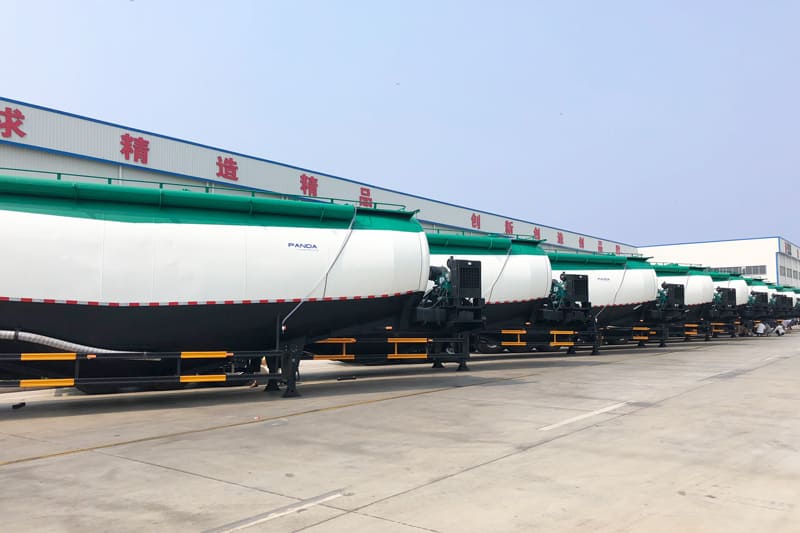 After all the information was confirmed, the orders were put into production. Now the cement trailers are completed and shipped to Djibouti, we hope this cooperation will build up our mutual trust and bring us long-term cooperation in the future.