flatbed trailer is a typical open deck equipment that has no roof nor sides. It is mainly used for transporting heavy, oversized, wide and indelicate goods such as machinery, building supplies or equipment. The flatly shaped body makes it much easier to load and unload goods.
Flatbed semi trailer brands
Panda Mech is one of the most famous flatbed semi trailer brands in China. At present, our flatbed semi trailers have been exported to more than 80 countries and regions, and we have cooperated with about 2000+ companies.
PANDA Mech has been exporting semi trailers since 2002 and has a lot of experience in foreign markets. Every year, our marketing analysts make market surveys in depth, so that the design department can design semi-trailers meeting the market demand as soon as possible. More flatbed semi trailer…
Flatbed semi-trailer transport
The flatbed semi-trailer is generally used for long-distance transportation of some bulk goods, containers, etc. It is one of the most widely used transportation vehicles.
Flatbed semi trailer specifications
Marque : PANDA Mech
Flatbed semi trailer specifications:
40 Flatbed semi trailer dimensions: 14500*2500*1500mm
Flatbed semi trailer deck height: 1500mm, 5ft.
Flatbed semi trailer width: 2500mm, 8.3ft.
Flatbed semi trailer length: 14500mm, 48ft.
Flatbed semi trailer weight: 6-9 ton
Axle: Fuwa / BPW
Tire: 11.00R20, 12.00R20,12R22.5, 385/65R22.5
Suspension: mechanical suspension, airbag suspension
Twist lock: 4-12 sets
Material: Main beams Q345B
King Pin: 2 inches or 3.5-inch, JOST Brand
Flatbed semi trailer accessories
Flatbed semi trailer is composed of several parts, including the main beam, traction pins, outriggers, toolbox, tires, air chamber, wiring, Led lights, axles, leaf springs, lugs, suspension, and side fenders, fenders, crash beam, etc.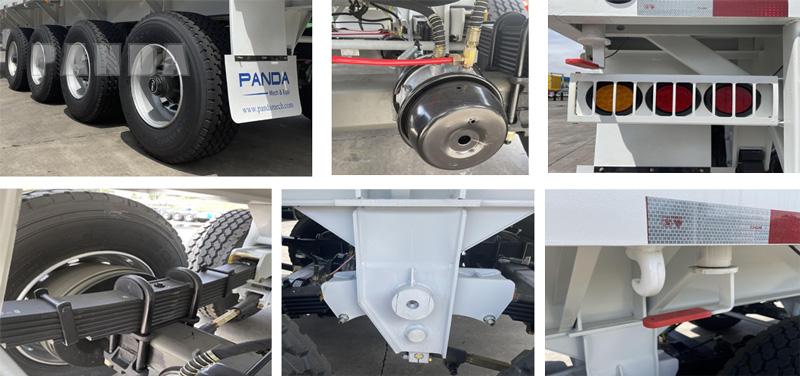 flatbed semi trailer accessories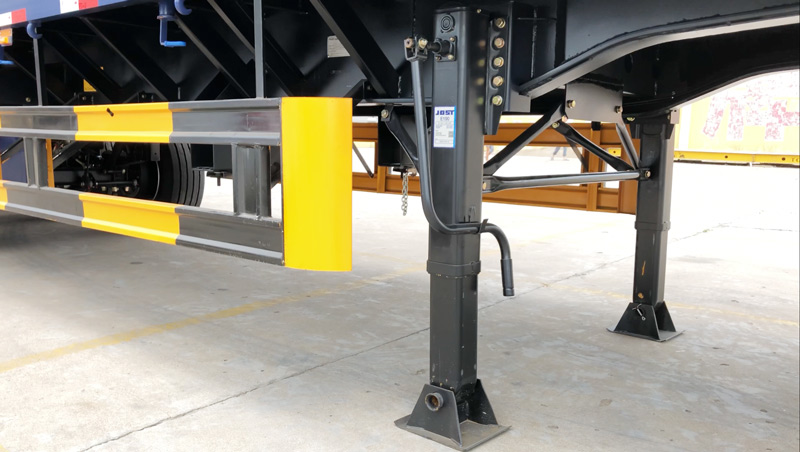 flatbed semi trailer tire
Flatbed semi trailer types
There are many types of Flatbed semi trailers, including side wall trailers, curtain side trailers, a double drop side trailers, single axle flatbed trailers, flatbed trailer with front board, extendable flatbed trailers, drawbar flatbed trailers, and superlink trailers. Learn more…
Remorque à ridelles
Drop side trailer also called flatbed semi trailer with sides. Side Wall Trailer is used to load a variety of products and materials, such as bags, poultry, sand, bulk groceries, etc. It is one of the widest used semi trailers in transportation industry.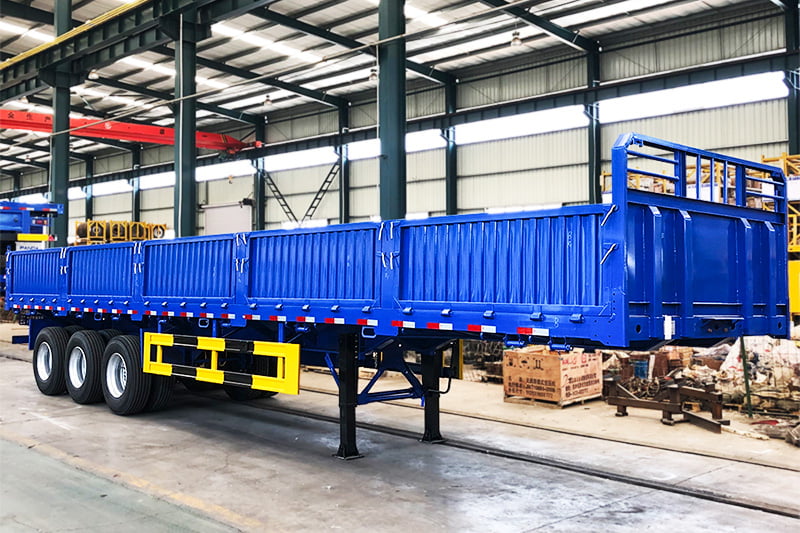 Fence trailer
Une remorque grillagée est un véhicule spécial équipé d'un dispositif spécial et d'une cage ou d'une structure grillagée. Elle est principalement utilisée pour transporter des particules en vrac ou des aliments pour animaux, du bétail et de la volaille, ainsi que d'autres marchandises. Dans la conception extérieure des chariots de remorque de clôture, nous nous efforçons d'être beaux en apparence, raisonnables dans la structure interne et avancés dans la technologie.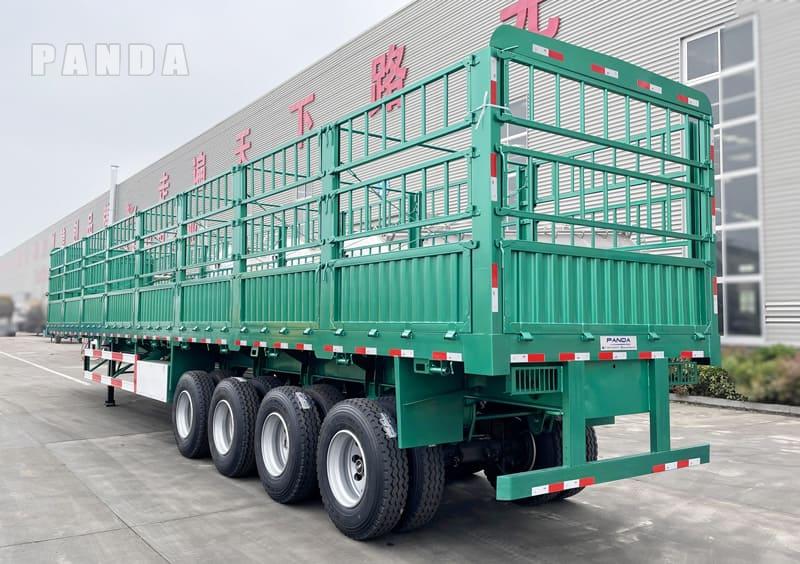 Wing van trailer
Wing van trailer is also known as wing-propelled vehicles, bi-wings, flying-wings, two-wings etc. It is the improvements of ordinary vans, which can realize the opening of its wings and double rear doors through hydraulic power units. The flying three axle wing van semi trailer is a new type of transportation vehicle that can meet the needs of modern logistics development that has broad market prospects.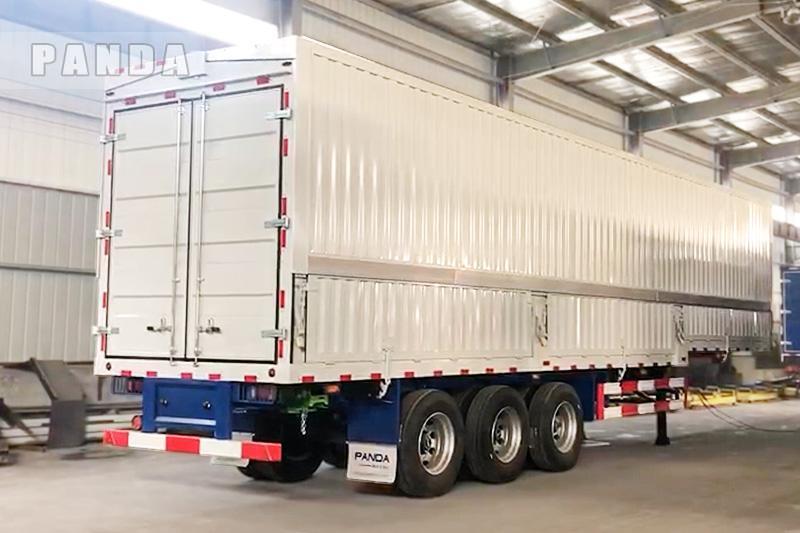 Double-drop flatbed trailers
It also has a center portion similar to a single drop that drops lower than both ends. Also, it can create a "well" that allows for taller cargo to be carried. 
These types of flatbed trailers have lower ground clearance compared to the standard ones. Also, it is often used to carry cargo that requires a crane to load and unload.
Low bed trailer
A lowboy trailer is an unpowered trailer, commonly used to haul freight. With a lowered bed in front of the rear axles, lowboys are designed to transport taller goods that would exceed the height restrictions if carried on a flatbed. Depending on the freight, some states require many permits.
Detachable low bed trailer
Removable Gooseneck Trailers (RGN) are built to carry tall and long freights. The front of an RGN trailer is detachable, allowing the trailer to be dropped on the ground creating a ramp. Capable of transporting freight weighing up to 150,000 pounds, an RGN trailer can expand from 3 axles up to over 20 axles for heavier shipments. Because it is considered a more specialized trailer, removable gooseneck trailers are more expensive to use.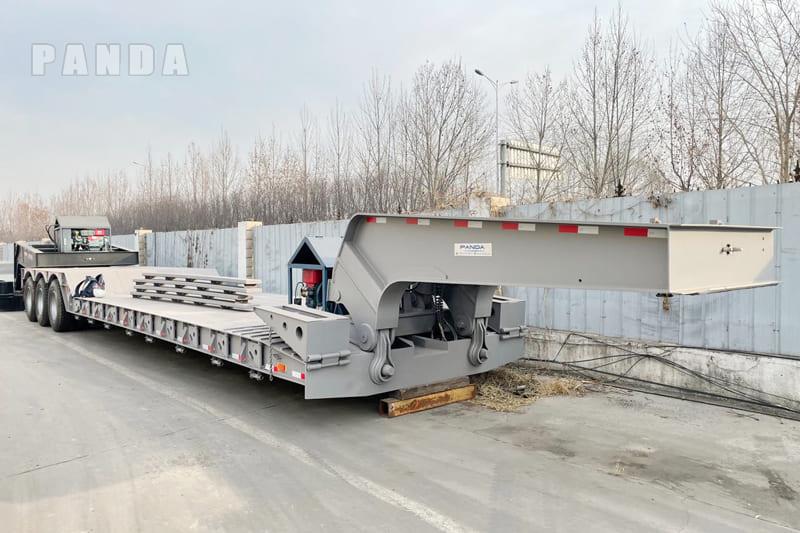 Flatbed semi trailer price:
Flatbed semi trailer rental cost: Generally speaking, the price of renting a flatbed semi trailer is different in different countries, about $60-300/day. You can communicate the rental cost according to your rental time to get the best price.
Flatbed semi trailer cost: The prices of flatbed semi trailers with different configurations are different, generally $9500-14500. If you want to buy flatbed semi trailers, we recommend that you communicate your needs with the business manager first, and a professional company can meet your needs.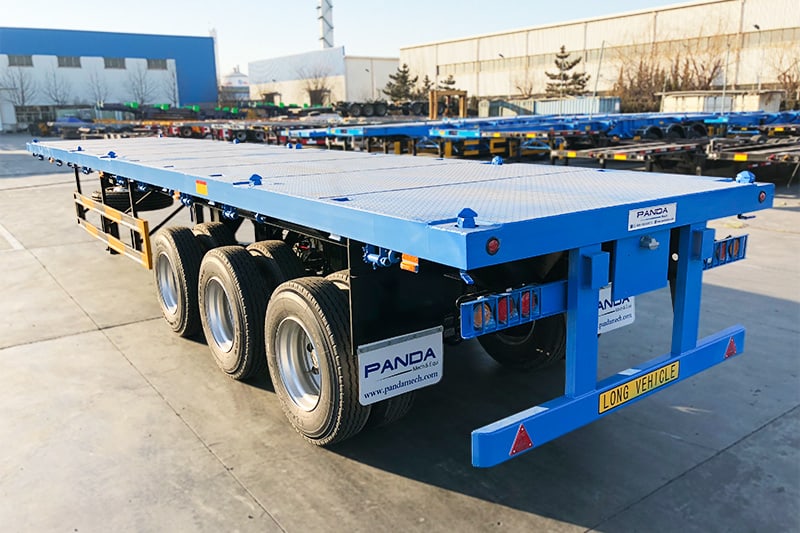 Semi-remorque à plateau de 40 pieds à 3 essieux
Flatbed semi-trailer companies
PANDA Mech is a flatbed semi trailer manufacturer from China. We supply different types of flatbed trailers, which can be customized according to your needs.
FAQ
What is Flatbed Trailer Transport?
Flatbed trailer transport is when you ship various types of freight or equipment on a flatbed trailer. Flatbed trailers are a type of heavy hauler transport that typically handles wide loads, oversized equipment, machinery, and bulk cargo. They are constructed of heavy-duty steel and often have multiple axles to allow for heavy cargo to be moved safely.