Side tipper trailer as known as side dump trailer, side tipping trailer, the structure includes chassis, box, and lifting sys. Work by PTO supply oil to the cylinder, lifting box till to design angle, cargo slide out, improve unloading efficiency.
Side dump trailers are specially manufactured for mining and resource industries, quarries, waste industries and other heavy, high flow applications.
The side tipper trailer uses a high-strength steel chassis designed and manufactured to withstand extreme loads. It is equipped with road train rated kingpin bolts and high-strength, high-strength Hi high-strength anti-skid plates as standard. We are good at installing air valves and hydraulics for any truck Valve to provide the best solution for your application.
Side tipper trailer images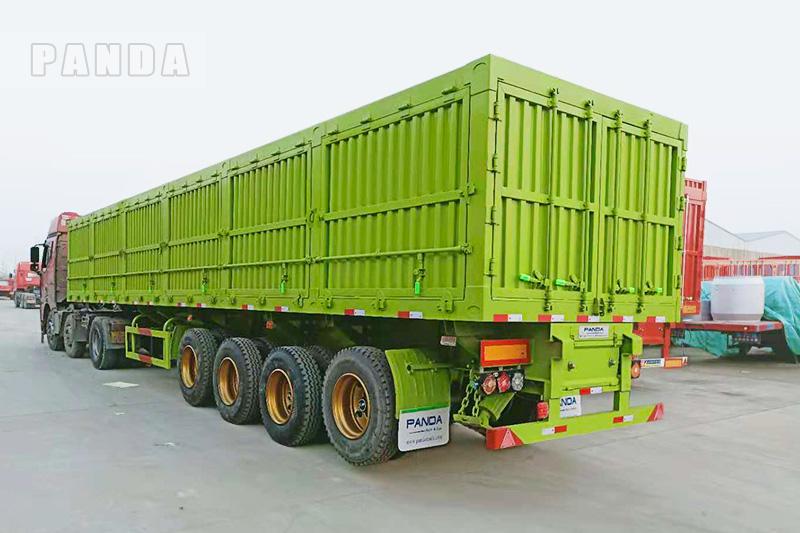 side tipper semi trailer for sale – half round dump trailer

end side dumper semi trailers – steel dump trailers
End dump semi trailer youtube video
Side tipper trailer specification
| | |
| --- | --- |
|  Brand |  Panda Mech side tipper semi trailer |
|  Type |  U type or block type |
|  Side tipper capacity |  30-70 ton or customize |
|  Side tipper dimensions (mm) |  8500-12000*2500*1500 mm |
|  Body dimensions (mm) |  8050-11625*2400*1380 mm |
|  Chassis |  Heavy duty and extra durability designed I beam |
|  Axle |  2,3 Axles, BPW or Fuwa, tandem axle |
|  Hydraulic system |  HYVA hydraulic cylinder |
|  Cylinder |  175, 191, 202, 214 / 4TG, 5TG |
|  Side tipper suspension |  Mechanical suspension |
|  Kingpin |  JOST 2″ or 3.5 detachable type |
|  Landing gear |  JOST 28T |
|  Braking system |  ABS or EBS (optional) |
|  Material |  5mm or 6mm high strength steel, Q235, Q345, Q610 |
|  Tire |  12R 22.5 315/80 R22.5 |
|  Spare tire carrier |  one set of the spare tire including a carrier |
|  Accessories |  One standard toolbox, one rocker handle, one Shaft wrench |
|  Brake chambers |  T30/30 |
|  Side tipper parts |  Electric system, brake system, axle, tire, suspension, latch, kit. |
|  Inquiry Now | Get Free Quote |
Side tipping truck trailer advantage
Material:
Hardox 450 or equal wear and abrasion-resistant material box, T700 high tension beam, tare weight lighter 2000kg than normal material tipper, longer service time and lower fuel consumption
U section box:
U model box design and analysis, larger section area with lower barycentre, load more and unloading easier, safely and efficiently
Chassis:
Double web for main beam design, stronger for multi road condition
Cylinder:
FC and FE model optional, higher operating pressure, help Max 45° tilt angle, reducing turnaround time with faster-ripping speed, increasing operating time with long service intervals
Brackets:
Improved design with better stress and fatigue resistance
Knock off:
Robust design precise actuation protect box working in safety angle
Tilt Shaft:
Heavy-duty design support working stable when tilting, more durable and safety
Fasten Sys:
Rear door auto fasten lock efficiency work, adjustable design keep suitable situation, easy maintenance and replace
Auxiliary support frame:
An auxiliary support frame support box with chassis, avoid box tilt, in order to work more safely
Side tipper trailer parts
chassis
High-strength, complete chassis is made of steel.
According to the design of the tipper truck bodies, the "I" cross section produced by robot welding technology is especially drawn.
The middle beam is reinforced, resistant to torsion and spring deformation, rolling safety, special design, and the connecting bracket on the chassis side beam reduces stress by distributing the force from the road condition.
The chassis structure parts are produced in perfect harmony by qualified welders using a collaborative welding machine under the ISO 3834 welding production quality confirmation standard.
Transport availability under various loads and road conditions.
Chassis accessories
The transportation capacity is 18 m3 to 50 m3. The telescopic feet are bolted from below, which meets the requirements of SAE standard "King-pin 385/65/22.5 standardized tires and rims".
King-Pin: Functional type certified to comply with Directive 94/20/EC, 2 inches removed and installed from the bottom.
Mechanical outrigger: The trailer supporting outrigger has double speed, dynamic load 25 tons, static load 50 tons.
Axle and suspension system
Air suspension disc/campus brake shaft kit, each kit has a capacity of 9 tons.
Brake system
Wabco EBS 2S / 2M with RSS-dual circuit braking system with EC-compliant Alu air tank
Electronic system
Use a lighting system that meets EEC standards, sidelights, reflectors, 2 * 7 fixed socket kit systems.
Paint and surface protection
The frame is polished and surface hardened by a fully automatic strapping system. Then use the epoxy primer twice. After the last two paintings with the voluntary RLL code, they were oven-dried at 60 and 80 degrees.
Side tipper trucks trailer for sale
Panda Mech is a side tipper trailer manufacturer from China. We supply  side tipping semi trailers and semi tipper for sale. Panda Mech manufacturers have been successful in Southeast Asia, the Middle East, Africa and South America, such as the Philippines, Tanzania, Nigeria, etc…More about panda

Get Latest Price and Detail