Today, we will discuss container side loader specifications for the specific dimensions and capacity. We will all be detailed in the article; take a look.
Container side loader images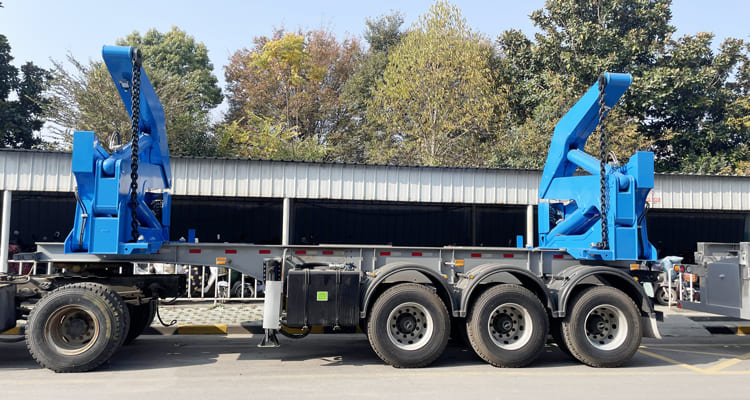 20ft side loader truck trailer for sale
40ft side loader trailer for sale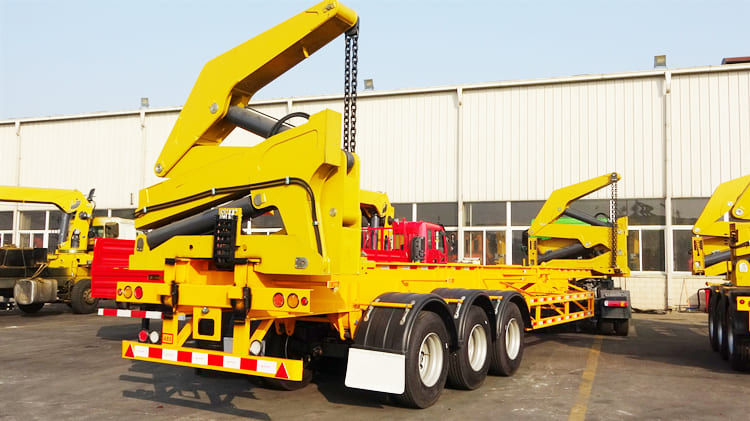 Container side loader specification
20Ft
40Ft
45Ft
Brand
PANDA Mech
Maximum lifting weight
37 tons
Capacity
Loading 20 feet container
load 40ft container
load 45ft container
Dimension
12500*2500*4000mm
14200*2500*4200mm
15200*2500*4000mm
Suspension
Mechanical / suspension
Axle
3 axle
Tires
12pcs
Material
High strength steel
Crake
WABCO emergency valve
King pin
2/3.5 feet
Landing gear
Jost
Power source
Power take-off/diesel APU
Operation mode
Wireless remote control and manual operation
The PANDA Mech trailer range is expertly designed to handle a variety of container sizes, including 20ft, 40ft, and 45ft units, catering to a wide spectrum of shipping and storage needs. With a formidable maximum lifting capacity of 37 tons, these trailers are engineered to be powerful and reliable. The trailers are meticulously crafted using high-strength steel, ensuring durability and stability during transit. The dimensions of the trailers vary based on the container size it is built to carry, ranging from 12500*2500*4000mm to 15200*2500*4000mm.
The trailers showcase innovation with two operational modes – a modern wireless remote control system and a manual operation mode, enhancing usability and offering convenience to the operators. Safety is a top priority with incorporating a WABCO emergency valve in the braking system, promising secure halts during emergencies.
Container side loader dimension
20Ft side loader trailer dimensions: 12500*2500*4000mm.
40Ft container side lifter dimensions: 14200*2500*4200mm.
45Ft side lifter trailer dimensions: 15200*2500*4000mm.
Container side loader length
20Ft side loader container length: 12500mm, 492'', 41′.
40Ft side loader container truck length: 14200mm, 559", 46.5ft.
45Ft side lifter container trailer length: 15200mm, 598",49.8 foot.
Container side loader width
20 40 45ft side loader width: 2500mm, 98 inch, 8.2 ft
Container side loader tire
Side load trailer can be 12R/22.5, 295/75R22.5, 285/75R24.5, 225/70R19.5, and 385/65R22.5. We use different tires for different road conditions.
Container side loader capacity
20Ft container side loader trailer capacity: 37ton;
40Ft side loader truck capacity: 37ton;
45Ft container side lifter capacity: 37ton;
Container side loader transport:
20 ft container side loader trailer: 10/20 ft container.
40 ft container side lifter truck: 10/20/40 ft container.
Container side loader suspension
Side lifter trailers have mechanical suspension and air suspension. In countries with good road conditions, we recommend using mechanical suspension. If the road conditions are not good, it is better to use air suspension.
Container side loader material
Unlike the cement bulker and fuel tanker trailer, the container side loader does not have aluminum alloy material. Although the aluminum alloy material is lighter, the weight of the container plus the weight of the side loader container trailer, even if we use high-strength steel, there will be no overweight problem.
Today, about container side loader specification to the end here, maybe there are some I missed, or there are some other issues you want to know, please feel free to contact us.