A double tanker is mainly used to transport Palm Oil, which is generally suitable for long-distance transportation. The Palm Oil tank trailer with an insulation layer can ensure that Palm Oil will not solidify.
25000 Liters a double fuel tanker specification
| | |
| --- | --- |
|  Brand |  Panda Mech |
|  Item |  A Double Tanker Trailer |
|  A double tanker dimension |  9500*2500*3600mm |
|  A double tanker capacity |  25000 liters |
|  Compartment |  2-10 |
|  Payload |  30-60 Kl |
|  Weight |  5600KG |
|  Material |  Iron Steel, Stainless Steel |
|  Chassis |  High Strength Steel |
|  Valve |  Civacon, EMCO, HELI, JLME, HENGE |
|  Axle |  BPW, FUWA, L1, HO'S, SAF, PDME |
|  Suspension |  Air suspension, Mechanical, Bogie |
|  Brake system |  Dual Line brake system, T30/30 Chamber, Wabco emergency valve, ABS/EBS optional |
|  Palm oil tank trailer Parts |  Mudguard, Ladder, 1 standard toolbox, 1 coat of anticorrosive prime, 2 coats of final paint, Polyurethane paint, Landing gear, 9.0-22.5 steel wheel rim, Fire extinguisher, 4-inch Pneumatic bottom valve, 500mm Aluminum alloy manhole cover, Q345/6mm steel sheet, conforming ADR (According to customer needs) |
A double tanker images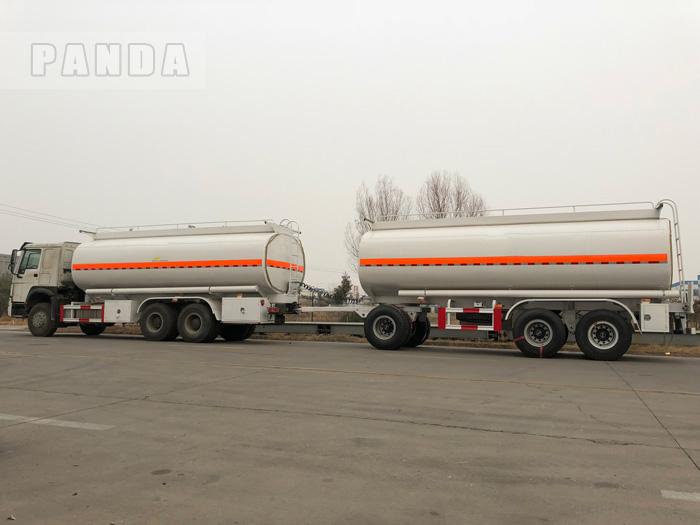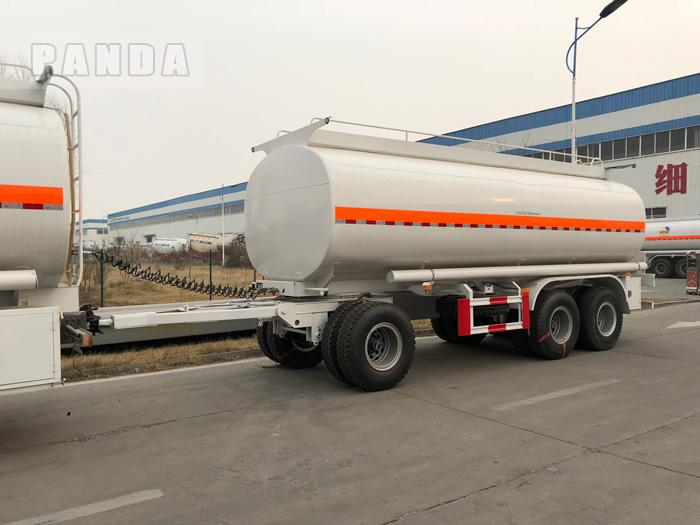 A double application:
Fuel tank trailer is generally used to transport gasoline, kerosene, diesel, vegetable oil, edible oil, heavy oil, coal tar and non-petroleum products such as alcohol, aldehyde, benzene, ether and other liquid substances.
The fuel tank trailer has a capacity of 30000-60000 liters, which is generally used for long-distance transportation, transporting liquid substances to all over the world, so as to realize the reasonable distribution and use of resources.
A double features:
1. 3D Drawing and HyperMesh & Ansys
Fully utilize physical property, support higher performance, reducing operating cost
2. ADR standard API Adaptor
Crucial to any API bottom loading system, match 3″ or 4″ couplers
3. API Sockets Optic
Support bottom loading system
4. ADR standard Manhole with vapor vent
16″ or 20″, Aluminum material for a longer lifetime
5. More safety by 7%Lower center gravity Gooseneck design
6. 12% Larger volume by semi-elliptical section barrel design
7. Long service life by tanker automatic arc welding
Sea transportation
In order to prevent the paint of the fuel tanker truck trailer from being corroded by seawater, we will spray a layer of wax on the surface of the fuel tanker trailer before transportation.
Get Latest Price and Detail