The customer found us through the picture on Google. He felt that our lowbed trailer was very beautiful. The customer came from Kenya. He needed a low flatbed and a detachable gooseneck. The customer requested expansion on both sides. We are on both sides for the customer. Expanded by 200mm, customers are more concerned about the quality of the girders. The detachable gooseneck and suspension are prone to damage.
We inquired about the customer's use, and the customer gave us the length, width, height and weight of the three large equipment that they are most often transported easily. According to the difference between the detachable gooseneck and the low plate, we have formulated two different lengths for the customer. , Because the height of the detachable gooseneck required by the customer is considered to be lower, so the ground clearance has reached a height of 400mm.
At the request of customers, the 12.00R20 tires were replaced with 315/80R22.5 tires. The price of 315 tires is cheaper than 12.00R20 tires. The customer mentioned that they wanted a complete set of bottom plate, tire pitch, leaf spring width, and leaf spring bracket height and width. Our salespersons all made professional answers for customers one by one. Finally, customers chose PANDA Mech because of our specialty. , We are also very grateful to customers for choosing us.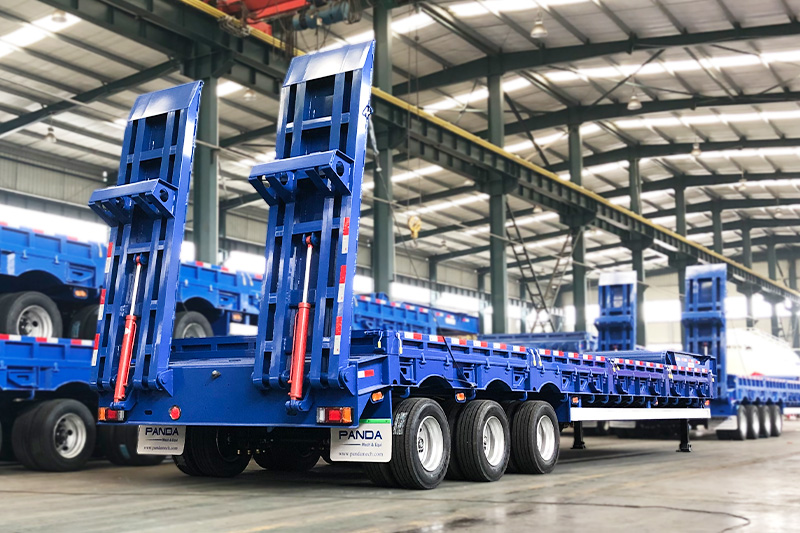 As a professional semi trailer manufacturer, Panda Mech promises that we not only have professional pre-sale and in-sale services, but we also have a complete after-sales service system. We are committed to helping our customer solve their problems and and let users use vehicles without worry.
Whether it is from the strength of the factory, the experience in the semi-trailer, professional R&D team or perfect after-sales service, choosing Panda Mech is your best choice.
No matter you encounter any problems with semi-trailers, you can contact us, we will do our best to help you.