John found Wade's contact info from Panda Mech's official website, expressing interest in purchasing a 3-axle 40ft flatbed semi-trailer. During this initial communication, Wade introduced John to the basic features and potential customizations available for the trailer, including its primary usage for transporting large and heavy goods.
40ft flatbed container trailer for sale in Congo
Detailing Usage and Accessories
In the ensuing two weeks, Wade and John engaged in detailed discussions over the trailer's specifications. They discussed the different types of goods John planned to transport, including construction materials. They focused on axles, tires, and suspension, which are all critical parts to ensure the durability of a flatbed semi trailer.
40ft flatbed tractor trailer for sale
Configurations and Quotation
Over the next few days, Wade and John finalized the configurations, tweaking them to suit John's requirements perfectly. They settled on a mutually agreeable payment plan, after which John proceeded with the initial payment to commence production.
After 30 days of production, the 3-axle, 40-foot flatbed semi-trailer was ready for delivery. However, it was not John who took delivery of the semi-trailer, but a third party named Mbia. Mbia conducted a rigorous inspection of Panda Mech's platform semi trailer and initially stated that it was fantastic. This does not mean that the deal is done, and we will help John as soon as possible to resolve any issues in any way.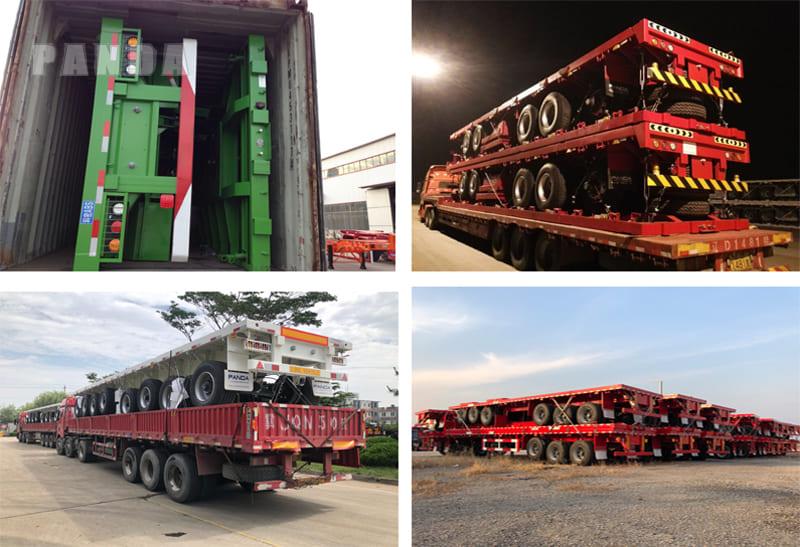 If you have any questions about the flatbed semi trailer, we welcome you to feel free to drop us a line below.