In the semi trailer family, the drop side trailers, also called dryload, are the best to smoothly load or unload your cargo. Generally speaking, it can be used to transport various items from light boxes to heavy bulk cargo.
But choosing a perfect dropside trailer is always difficult because there are lots of factors you need to consider, like the loading capacity, which is the most important and the basis, the height of the fence, the brand of axles, and the suspension system… Today we will recommend you 10 best drop side manufacturers to help save your time. Enjoy!
1. Panda Mech
Panda Mech is a world-leading semi trailer manufacturer not only in dropside trailers, but also in other kinds of semi trailers such as cement tankers, fuel tankers, container chassis, and flatbed trailers… It has 3 factories focused on R&D for over 20 years. The semi trailers from here have been sold to over 100 countries around the globe.
The dropside trailer in Panda Mech is one of the featured products. The product list includes superlink drop side trailers, double dropside trailers, ordinary drop side and cargo fence dropside, which cover almost all the market demand.
Most of the dropside trailers are 3 axles, with loading capacity from 30 tons to 70 tons at most. The trailer's structure is made of high-tensile steel in rational design to stabilize the driving process. The axles are from world-famous brands BPW and FUWA, which set a firm basis for the high-efficient working. Also, the dropside trailers can be customized for both the dimension and the fitting, you can always find a perfect one in Panda Mech.
2. Warwick Trailers
The Warwick Trailers are a USA company that was established in 1950, majoring in agricultural drop side trailer manufacture. It has 5 kinds of semi trailers and the drop side trailer is one of the popstar products. The dropsides are of high quality and have a capacity of 2 – 10 tonnes, covering cargo's dimensions from 8ft to 16 ft at most. For models with loading capacity beyond 8 tons, Warwick designed a fixed headboard to stabilize the trailers' whole structure body. With the help of a lead spring axles and 4mm floors, they are longer in service and safer to use.
3. Startruck Bodies
The office of Startruck Bodies is located in South Africa. It is an all-around trade company with production lines of semi trailer, waste equipment, tarpaulin, earthmoving equipment, cranes, etc, and a drop side trailer is also one of them.
The models in Startruck are classified into the dropside semi and a dropside link. Both two types are built from high-tensile steel to increase the payload capability. But the products here cannot be customized. So if you confirm your specifications clearly, this brand can be a good choice.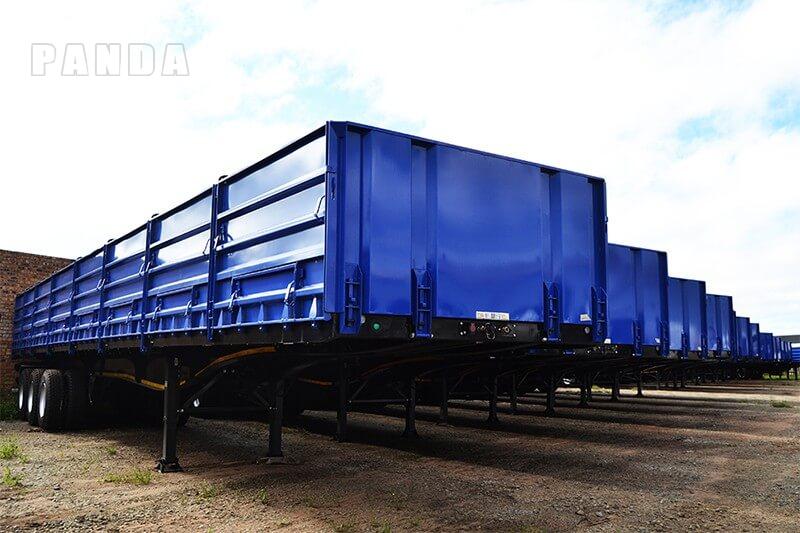 4. Supro Trailer
Supro Trailer is a trailer manufacturer, including semi trailers from flatbed trailers, container chassis, lowbed semi trailers the dropside trailer. The 3 axles dropside trailer is the main model it sells.
The 3 axles model can load cargo up to 100 tons. With the famous brands of the tire, suspension, axle, and valves…it can provide a good quality dropside for heavy-duty work. What's more, Supro has a professional team to enhance the technical support, which set the basis for good after-sale services.
But unfortunately, it cannot be customized for both the specification and the spare parts. So if you have specific needs for the heavy-duty model, Supro can be a fairly good choice.
5. PFT Trailer
The PFT Trailer is established in 1995 and has the ability to design and manufacture all kinds of semi trailers.
Generally speaking, the dropside tipping trailer is an important branch here. The 3 models can carry 8 tons, 10 tons, and 12 tons respectively. All of them are equipped with 2 axles. With a 40kph bogie suspension, the dropside trailer can deal with complex and terrible road conditions easily.
The highlight of PFT dropside trailer is that you can choose the wheel size and trailer body's color according to your needs. But for fence dimensions and other specifications, customization is not available.
6. Akell Trailer
Akell is a world-famous brand from Turkey. It is also an all-around company with various types of semi trailers, such as the tipper semi trailer, the lowbed semi trailer, the container chassis, the dryload dropside trailer, the oil tanker, and the cement tanker.
There are 2 axles, 3 axles, and 4 axles configurations available to meet different needs, which can carry 10 tons or more.
The same as dropside trailer in Panda Mech, the side panels are also 500mm to 1000mm in height to help facilitate the unloading process as well as protect the cargo, and you can also customize your dropside trailer on both the fittings and dimensions.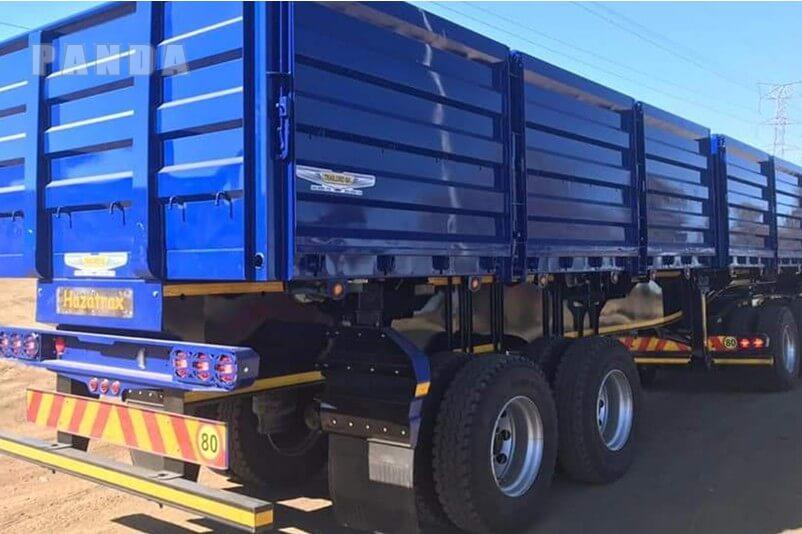 7. Maccauley
Maccauley is an English brand and has been dedicated to the semi trailer for over 10 years. It sells agricultural trailers, commercial trailers, and even used semi trailers.
McCauley dropside trailers are versatile enough to be adapted to various kinds of situations, such as grains, silage, bales, stone, manure, etc. The setting in here is always 2 axles with 10 tons of loading capacity. Even so, it still provides customization services, you can choose to use super singles, another brand of axles and springs, or 3ft bale Extension c/w lights.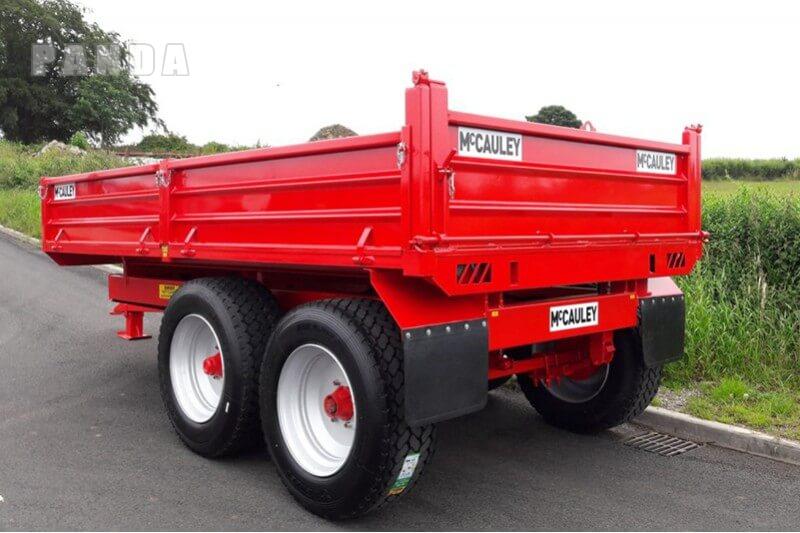 8. Herren
The Herren Engineering is from Northern Ireland and offers a wide variety of dropside trailers of heavy duty.
The loading capacity is from 9 tons to 15 tons with a robust structure made of high-tensile steel. The fittings, like the ADR axles, twin tipping ram, or center rocking bogie suspension are all from a high-end brand, which guarantees high quality and long-lasting services to you.
As for customization, you can choose the pattern and color of the painting, and some spare parts can be chosen among different brands.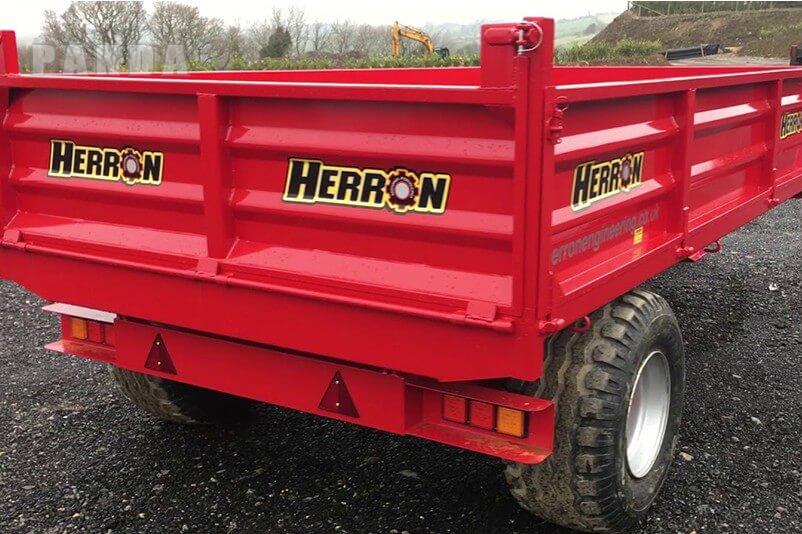 9. Marshall Trailers
Marshall Trailers is a famous brand from the UK. It has drop side trailers with versatile loading capacities from small 1.25 tons to 10 tons. For the dropside below 8.5 tons, it applies 1 set of axles, and for the heavier type, it uses 2 axles. The good thing is, the loading capacity increasing is every 1 ton, so you will easily find the best drop side trailers.
As for details, the fixed headboard helps to solidify the whole structure. You can also choose full-height grain doors to make the cargo fully enclosed. As for the tandem axle model, it can install springs or split oscillating suspension with no price difference, which makes the drop side trailer economical for customers.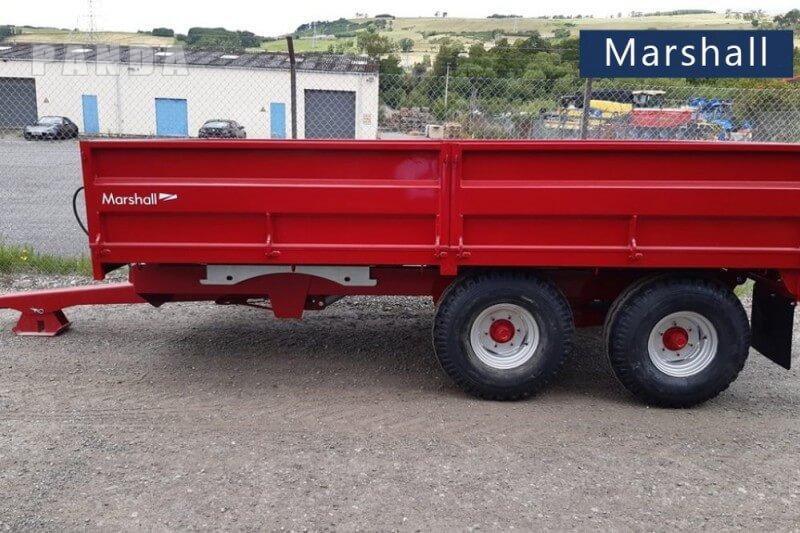 10. Mar4 Trailer
Mar4 Trailers is from the US and focuses on semi trailer supply for over 7 years. The factory is located in New Oreland and has a powerful production ability. Its dropside trailers come in two types: the ordinary dropside trailer and the dropside tipping trailer. the ordinary dropside trailer can deal with a cargo of 8 tons, 10 tons, and 12 tons.
Besides, this brand is equipped with a vocational team for production. It also applies advanced techniques such as robot welding, 3D commissioning test, etc, which guarantee quality greatly.