This flatbed semi trailer order is from one of our major accounts in the Philippines.
Long before it, he knew us from Google search in 2016, at that time he was just a purchasing specialist of a flatbed semi trailer in the Philippines company. He ordered 30 flatbed semi trailers at that time and those trailers impressed him very much. He told us that at first, he didn't expect the quality, because they are so cheap. But when he received the flatbed truck trailer in the Philippines port, the thorough protection measure completely make the container flatbed brand new, then the whole structure, the seamless welding, and the spare parts stunned him as well. These batches of platform semi trailers served them for more than 5 years. With less maintenance rate, they help to make a great profit.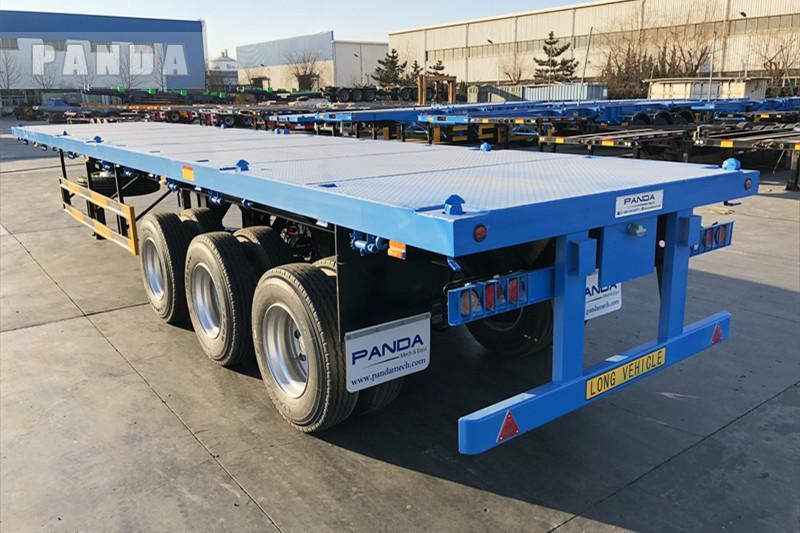 3 axle 40ft flatbed trailer for sale
Then when he made the first pot of gold, he started his own business and hired a fleet of drivers. Without any hesitation, he contacted us this year and ordered 20 flat bed semi trailers as his first step. 
"Among all the flatbed tractor trailers, the platform semi trailer is my area. It is versatile in all industries and easy to do daily maintain. I'd like to choose your product as my firm backup. "
Why should you consider a flatbed semi trailer
If you are going to deal with extra-wide cargo or heavy machines that won't compromise bad weather (like weather in Philippines), but with only a little budget on hand, then the flatbed semi trailers would be your best choice. Except for its cheap price, there are three reasons to tell why you should choose platform semi trailers.
Large storage space
With a container fatbed, you need to pay too much attention to the arrangement of your cargo. The large and open space allows you to stack items upward and on the side. All you need to care about is fixing the cargo firmly and following the local height limitation.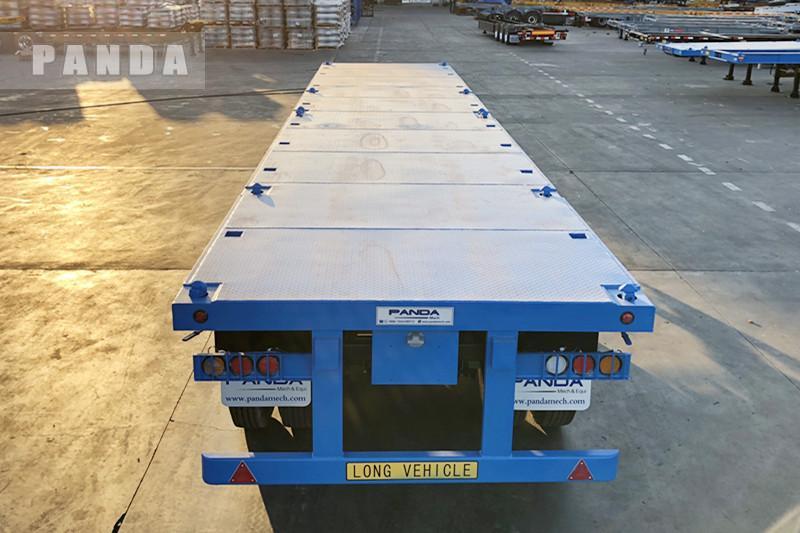 40ft platform semi trailer for sale
Easy loading
Other thanks to the open flatbed platform, it is easier to load or unload onto the truck. You can complete your work from the side or the back of the semi trailer. Due to the high-tensile chassis structure, you don't worry about the stress of the uniform as long as it's below the max. bearing capacity.
More type of flatbed semi trailer
Varied lengths
Everyone has their own needs when choosing a flat bed semi.
Lucky for us, flatbed semi trailers are available in different type: 4 axles, super link, drawbar. Typically, you can get them anywhere from 12 feet in length all the way up to 20 feet, which can cover most all the cargos on the transportation market. There is also the option to contact us for customization. We will confirm the details and design a new specification for you. No matter what you require, there's a good chance you'll be able to find it in a flatbed truck.