The flatbed tractor trailer as known as a flatbed semi truck trailer. Flatbed tractor trailer is a semi-trailer with a container structure. Mainly used in logistics systems supporting ships, ports, routes, highways, transfer stations, bridges, tunnels, and multimodal transport.
The size of the loading part of the flatbed tractor trailer is determined according to the size of the standard container, and a twist lock device for fixing the container is provided at the position corresponding to the four corners of the bottom of the container.
2 Axles 40 ft flatbed tractor trailer images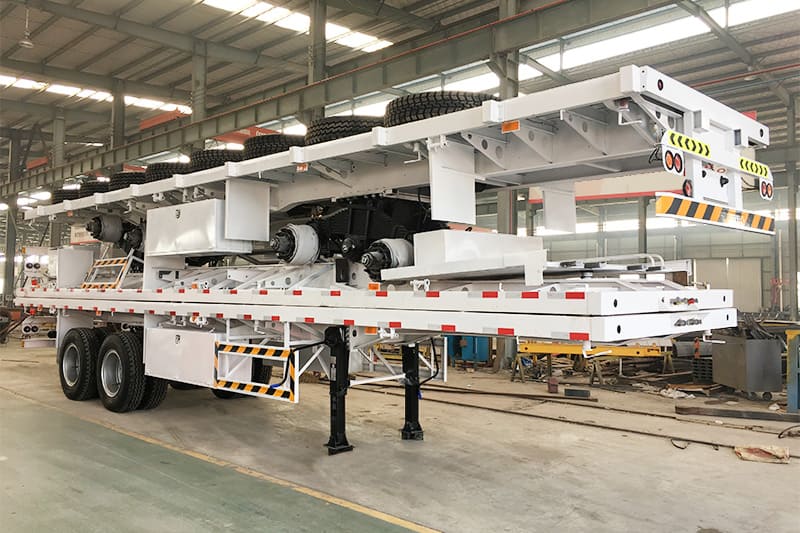 tandem axle heavy haul container transport vehicle
Related: 3 axle flatbed truck trailer, 4 axle flatbed semi trailer
2 Axles flatbed tractor trailer specification
| | |
| --- | --- |
|  Manufacturer |  Panda Mech 2 axles flatbed tractor trailer |
|  Axles |  2 axles BPW/SAF/FUWA Brand |
|  Flatbed tractor trailer dimensions |  12500 ×2500×1500 mm |
|  Weight |  7 ton |
|  Twist lock |  8 sets |
|  Material |  Main beams Q345B, upper flange:14mm, middle:8mm, down:16mm |
|  King Pin |  2 inch or 3.5-inch JOST Brand |
|  Chassis |  3mm,4mm,6mm, carbon steel or aluminum alloy |
|  Suspension |  Mechanical, air, bogie suspension |
|  Tire |  11.00R20, 12.00R20,12R22.5, 385/65R22.5 Triangle/Hankook/ Bridgestone brand |
|  Brake System |  WABCO Valve with big chamber |
Application
2 Axles flatbed trailer is generally used to transport containers, bulk cargo, bulk cement, bulk rice, etc. It is mainly used for long-distance transportation. Generally, Platform trailer can transport 30-60 tons.
If it is a large amount of transportation or different needs, we can customize it, or platform trailer some deformed vehicles.
Feature
Multi Support parts
8, 12 sets container locks for carrying  1 unit 30ft, 40ft, 45ft container and 2 units 20ft container.
Rope Euphroes and hooks help fasten cargo, suitable for multi cargo transporting.
Good Painting
Surfaces cleaned by shot blasting. One epoxy coating and acrylic finish coating.
Durable against rust, support longer good looking and service life.
Automatic welding
Submerged arc Automatic welding construction, Key point reinforces and purposeful welding avoid some parts easier lose welding according experience support vehicle longer time working without repairing.
Quality Axles suspensions and Brake sys
BPW, FUWA worldwide best axles work with WABCO brake valve, more effectively brake for safe and save tire cost
Fix quality springs and suspensions, support longer service life, save maintenance cost.
Transport and marine transportation of container flatbed trailers
When transporting flatbed trailers, many customers will choose to use container transportation, because this can have lower transportation costs and shorter transportation time.
Flatbed semi trailers are generally used for bulk carriers or ro-ro ships for transportation. We will ensure that Panda Mech commercial flatbed trailers will be waxed and covered with tarpaulins when the cargo ships are in bulk.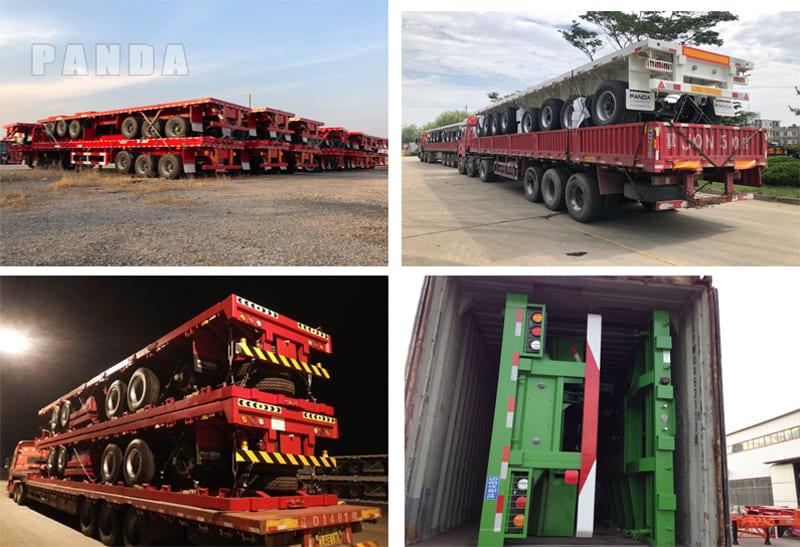 Panda Mech
We are a 2 axles flatbed tractor trailer manufacturer from China. We supply 2 Axles flatbed tractor container trailers for sale. We can customize according to your needs.
Panda Mech manufacturers have been successful in Southeast Asia, the Middle East, Africa, and South America, such as the Philippines, Tanzania, etc…  More about panda

Get Latest Price and Detail