What is a semi end dump trailer?
A end dump semi trailer can transport bulk freight, such as coal, mineral, and construction materials.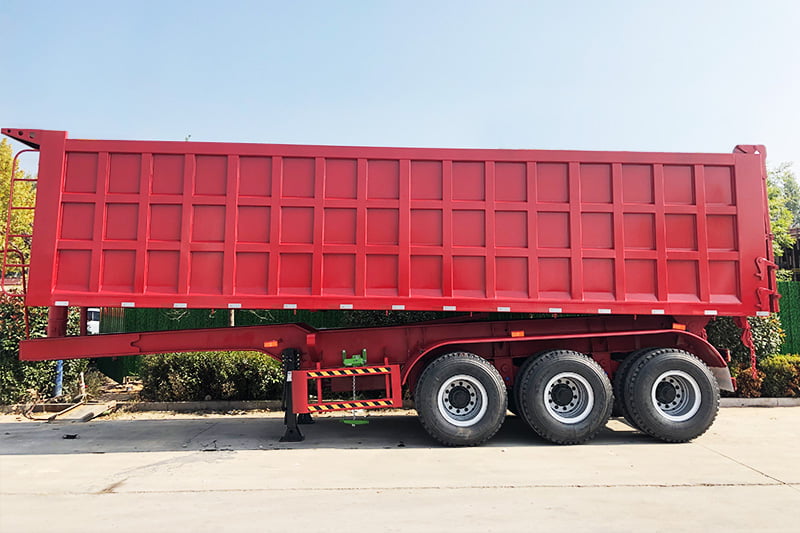 According to its use, a semi trailer tipper can be divided into two categories: one is heavy-duty and super-heavy type used for off-road transportation. They are usually used with excavators and mainly for large-scale mining and engineering transportation works; the other types are as light and medium-sized vehicles for road transportation, It is usually used with loaders for transporting loose bulk cargo such as sand, soil, and coal.
End dump trailer images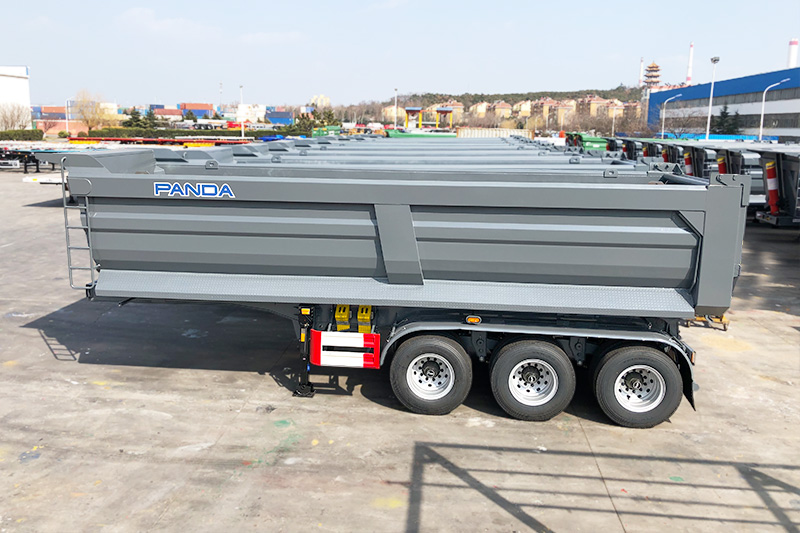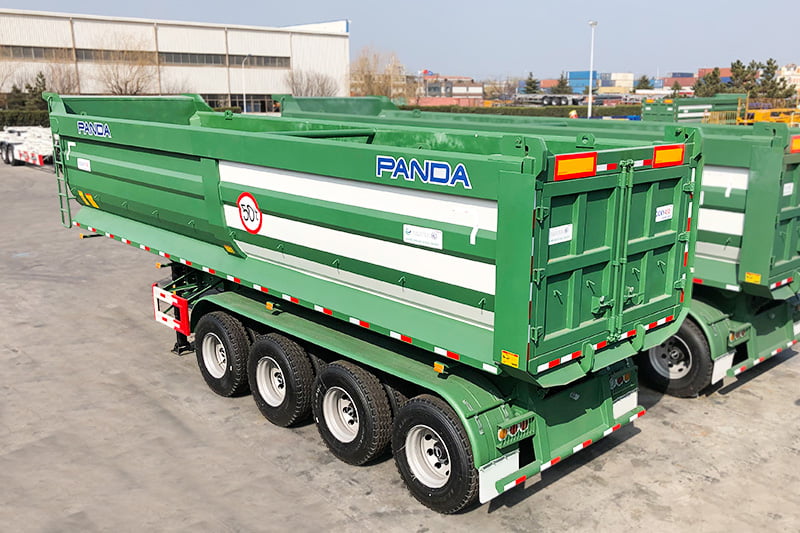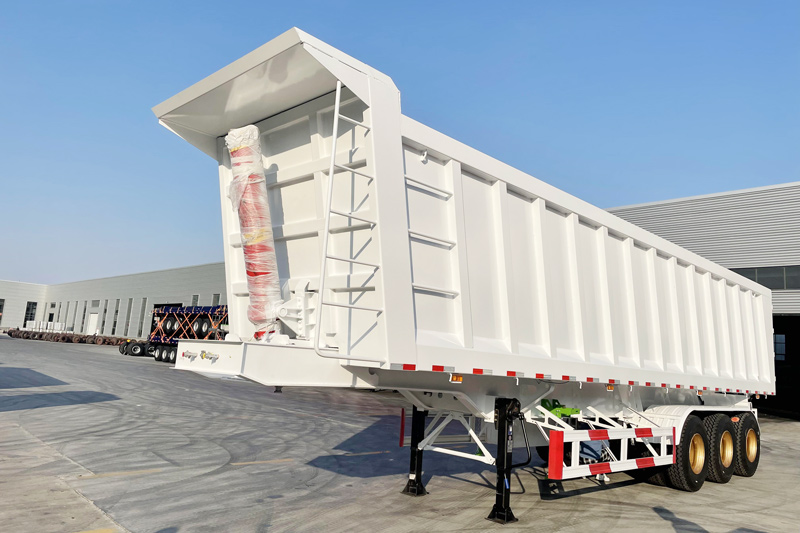 Semi with dump trailer specifications:
Marca: Panda Mech end dump trailers for sale
Capacidad: 50-150 ton
Dimensiones: 1000-15000*2500*3500-3900 mm
Material: stainless steel, carbon steel, aluminum alloy
Eje: 2/3/4 axles
Sistema hidráulico: HYVA hydraulic
Cilindro: 175, 191, 202, 214 / 4TG, 5TG
Suspensión: Mechanical / bogie / air suspension
Tren de aterrizaje: Jost 28T
Neumático: 12R 22.5 315/80 R22.5
Semi trailer end dump truck drawing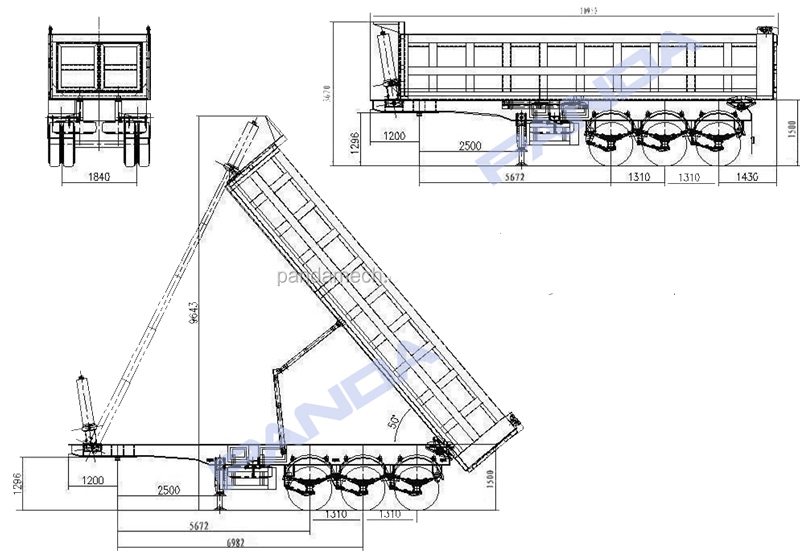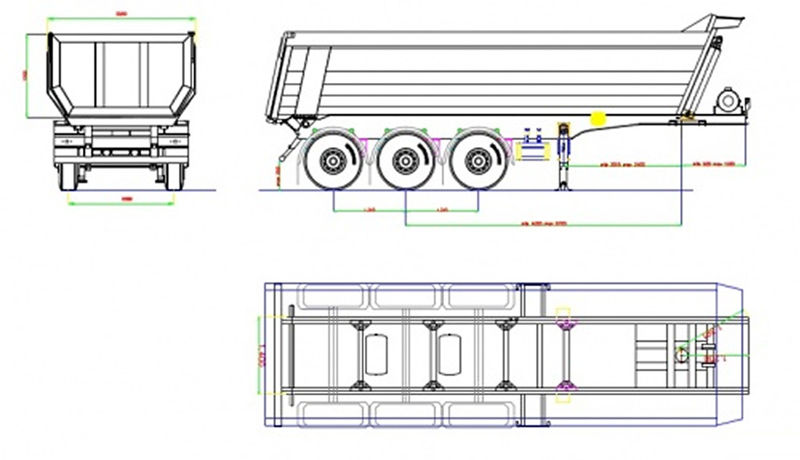 How to operate a end dump trailer?
Panda bottom dump semi trailer operation sequence:
1. Open the top tarp or lid of the dump semi trailer.
2. Unlock the rear door.
3. Put the transmission into neutral, press the clutch, and wait for 5 seconds.
4. Put it in low gear. Below 4th gear is fine.
5. Open the air control valve handle to lift up.
6. Release the clutch, and then dump semi trailer starts to rise. You can properly go on the throttle but should try to control it after 1500 pm.
7. When the cylinder reaches the maximum stroke or the limit valve is activated, change the air control valve handle to stop.
Lifting principle
Hydraulic pumps get power from the tractor to transfer force, make pressurization, and control the hydraulic oil pressure. You can make the dump semi trailer hydraulic cylinder lifting, generally from the beginning of lifting to the end, basically completed within the 30s.
(semi tipper trailer for sale)

End dump trailer transport
Before the dump semi trailer is delivered and transported, the whole dump semi trailer will be painted with a layer of wax and then covered by waterproof tarp to ensure it will not be corrupted.
End dump semi trailer parts
Chasis
Con un rendimiento de alta resistencia y un chasis completo de acero, su carrocería se diseñó con una sección particular que parece una "i". Y no causará una superficie irregular porque los robots realizan todos los procesos de soldadura.
Puede responder con flexibilidad a la distorsión y el resorte reforzándose con un umbral central. Los soportes de conexión en las vigas laterales del chasis reducirá el estrés mediante la distribución de las fuerzas ejercidas por las condiciones de la carretera en el grupo de pista.
Con una sólida adaptabilidad a la carretera, puede funcionar en muchos firmes peores.
Chassis fittings
Los trenes de aterrizaje se ajustan a la misma norma, son extensibles y pueden atornillarse desde la parte inferior.
Dump semi trailer kingpin: conforms to the 94/20/EC instruction, and 2″ can be dismantled and installed from the bottom.
Dump semi trailer Jost: The trailer can sustain 25 tons of dynamic loads or 50 tons of static loads.
Axle and Suspension system
Panda Mech end dump trailers' axles are from famous brands of BPW and Fuwa, which are with quality assurance and longer service life.
Sistema de frenado
End dump trailer is with Wabco valve EBS 2S / 2M with RSS -a two-circuit braking system, and equipped with an aluminum alloy air tank that meets the EC standards.
Electric system
El sistema de iluminación eléctrica del remolque basculante final es una parte importante de la seguridad del tráfico por la noche, y su sistema de iluminación cumple la exigencia de las normas de la CEE. El sistema consta de luces laterales, un reflector y un juego de enchufes de 2*7 clavijas.
Painting and the surface protection
The frame must be sandblasted and surface hardened with a fully automatic strapping system. Then comes two times construction of epoxy resin primers, and after the last two sprays, the rll code is baking it at 60 and 80 degrees, making the whole surface more durable, better protected, and more beautiful.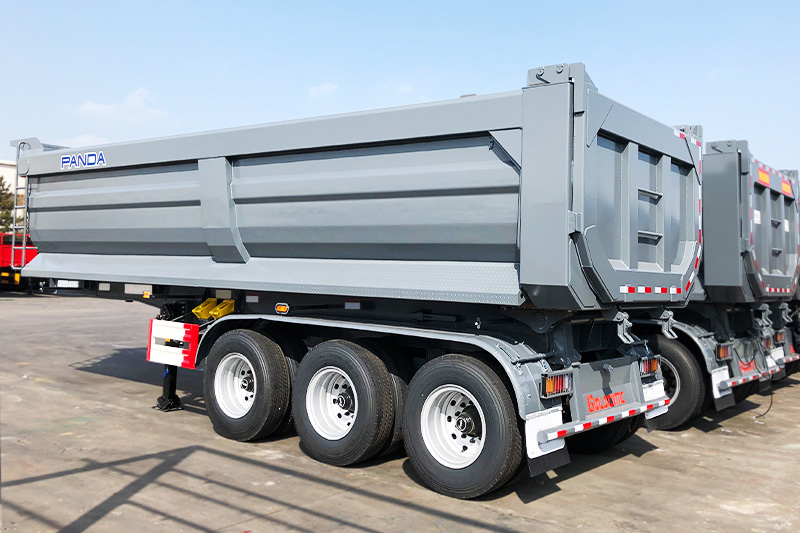 End dump trailer use precautions
(1) The relief valve must not be disassembled and adjusted on the lifting valve. Otherwise, the hydraulic system will be out of safety protection and cause accidents.
(2) The hydraulic cylinder should not keep lifted and exposed for two hours or even longer. As soon as the completion of unloading, pull it down and make it back in position. Otherwise, it is easy to rust, and affect safety.

(3) Never use the cylinder as semi tipper trailer body support. It will bring problems.
(4) We should load the goods carefully, trying to ensure that weight of the front and that of rear do not differ too much. If the loading is not even, the cylinder will bear too much pressure and it is easy to roll over.
(5) When unloading goods, we must pay attention to the unloading ground to ensure that the flat. Uneven road is particularly prone to roll over.
(6) The wind direction is also an important issue. If the side wind is too serious, it is best to change the trailer direction.
(7) The height of the goods should not exceed that of the door, and the goods should not pile up at the end. Otherwise, it is especially prone to roll over.
(8) The operator must not leave the operating position, no standing or walking near the work area.
Problems and solutions of end dump trailer in use
1. Why doesn't the end dump semi trailer lift?
When the cylinder does not work, we should check these places:
Distribution valve: If there is air in the air hose, press the lift switch and check whether there is air in the two air hoses on the distribution valve. If there is air, you should eliminate the air. If there is no air, replace the solenoid valve.
Extractor: We need to see if the dump semi trailer drive shaft connected to the oil pump is rotating. If it is spinning, it means that the extractor is standard. If it is not turning, there is some problem with the extractor or the solenoid valve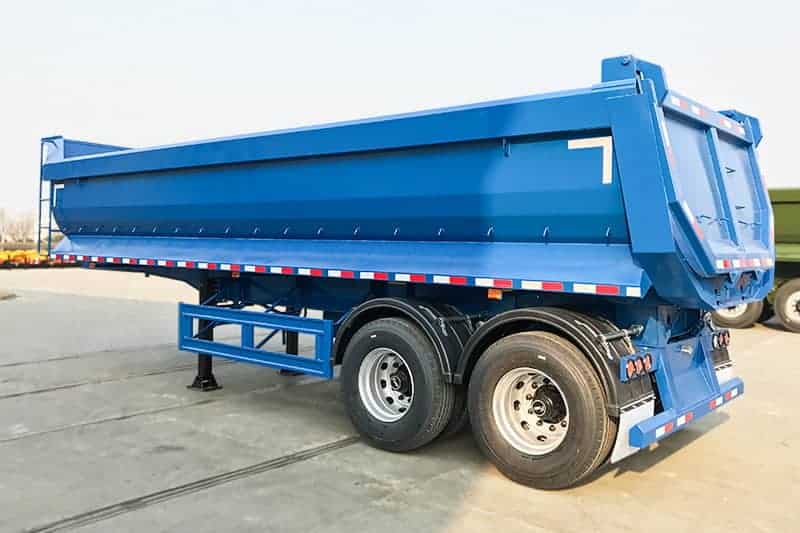 Oil pump: How about the dump trailer oil pump rotation direction? Is it correct? Through this, we can see if the oil pump has problems or not.
Sometimes in the process of a cylinder falling, there will be a climbing situation, because of the mixture inside the hydraulic cylinder inside, which needs to be dealt with on time.
2. How to deal with gear pump noise?
If we have been using the dump semi trailer for some time, we should first consider whether the oil supply pipe has been aging or whether the oil outlet is blocked, which make the oil is not smoothly.
If the problem occurs when filling oil, we should consider whether the insufficient amount of oil causes it.
End dump trailer characteristics
1. It can achieve the best driving characteristic by the low-deck and innovative gearing device;
2. It optimizes the loads through the lighter weight;
3. It can improve the operating speed through its high-powered hydraulic system;
4. It will extend its service life by the equipped low wear MEILLER tipper trailer;
5. It has two kinds of tipper cart shapes, angular or round.
Panda end dump trailer advantages
1. Two girders were designed for the double plate, which is unbreakable with a more substantial loading capacity.
2. Hydraulic cylinder: With a broader diameter and higher height, the HSG has a better and more stable lifting capacity which is not easy to roll over.
3. Sub beam: It is equipped with four units of sub-beam, which can make the bottom of the box with more substantial loading capacity and minor deformation. The lattice structure of the side wall makes it more solid.
4. Cross beam: A balance beam in the front and rear of the main shaft can support the beam better and it is not easy to deform.
5. Flip Bracket: The equipped four units of the flip bracket can make the vehicle's rear end more evenly stressed when unloading and less likely to damage the dump semi-trailer.
6. Leaf spring and suspension: The leaf spring is widened and thickened for good shock absorption, the rest is enlarged, and the center pin is widened to make the vehicle more stable in driving.
7. Deadweight: We can make our trailers with heavier self-weight and more substantial carrying capacity.
Póngase en contacto con nosotros
Panda Mech is a dump semi trailer manufacturer from China. We supply customized dump semi trailers for sale.
If you have any needs for a dump semi trailer or any problems with a dump semi trailer, you can contact us at any time, and we will reply you as soon as possible after receiving it.